Mark A. Pagano, Ph.D.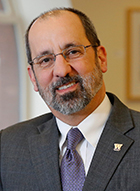 Degrees
Southern Illinois University Carbondale
Dr. Mark A. Pagano, the fourth Chancellor of the University of Washington Tacoma, grew up in southern Illinois. He has a B.S. (1979) in engineering (he was a first-generation college student), an M.S. (1983) in engineering, and a Ph.D. (1992) in engineering science from Southern Illinois University Carbondale.
Until his appointment at UW Tacoma in March 2015, Dr. Pagano served as provost and vice chancellor for academic affairs at Montana State University Billings, the only urban-serving university in Montana. He led the development of a university-level strategic plan and was instrumental in planning and funding a new science building, Yellowstone Hall.
Prior to MSU Billings, Dr. Pagano spent 19 years at Purdue University in Indiana, where he reached the rank of full professor and served in a variety of administrative positions: department head, director of the statewide outreach system, associate vice provost for engagement, and dean of Purdue Extended Campus.
Dr. Pagano started his academic career as an assistant and then an associate professor at SIU Carbondale. As a faculty member, he won teaching awards and carried out research into the problems of chlorine in Illinois coal.