Marcie Lazzari, Ph.D., M.S.W.
Professor Emerita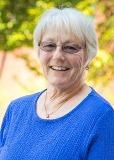 About
Degrees
Ph.D.
Social Work
University of Denver
1990
M.S.W.
Saint Louis University
1971
Introduction
My personal/professional interests are varied but have a common thread of attempting to facilitate the empowerment of others and to maintain congruency among social work values and ethics and the actual work that I do. Feminist principles have guided my teaching and research efforts, and I have a strong interest in qualitative research approaches. There is so much to be accomplished, and I feel privileged to be working with others as we attempt to find ways to deliver more humane services for our clients who are increasingly faced with serious challenges.