Ji-Hyun Ahn, Ph.D.
Associate Professor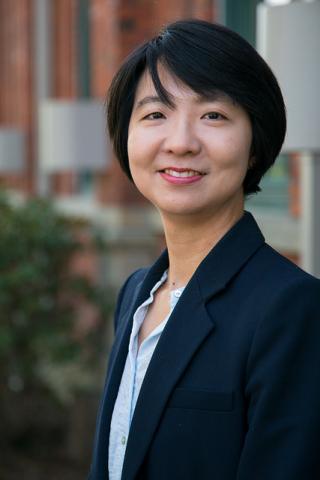 About
Degrees
Ph.D.
Media Studies
University of Texas at Austin
2013
M.A.
Visual Communication
Yonsei University
2007
B.A.
English Literature
Sogang University
2005
Introduction
Ji-Hyun Ahn was born and raised in Seoul, South Korea until she started her doctoral studies in the US in 2008. She received B.A. degree in English Literature from Sogang University in 2005 (Summa Cum Laude). She received M.A. degree in Visual Communication from the Graduate School of Communication & Arts in Yonsei University in 2007 and Ph.D. in Media Studies in the Department of Radio-Television-Film at The University of Texas at Austin in 2013. She joined the Interdisciplinary Arts & Sciences program at the University of Washington Tacoma as an Assistant Professor in September 2013. At UW Tacoma, she teaches courses on media globalization and inter-Asian media/cultural studies.
Dr. Ahn's primary research topic focuses on racial reconfiguration in East Asia as influenced by the massive flow of global migration today and the spectacularization of racial bodies on the screen in contemporary South Korean television. Considering race as a fundamental principle shaping global social order, her aims is to theoretically understand the complex nature of current racial globalization coupled with the transnational circulation of media and cultural texts in East Asia. 
Current Research
Dr. Ahn specializes in media globalization, Korean television and popular culture, Asian multiculturalism and critical mixed-race studies. She is particularly interested in examining how media practices have facilitated re-imagination of national identity from a global media perspective. Her ultimate goal is to understand how racial projects in what once were racially homogenous countries in Asia, including South Korea, are differently structured and articulated through the televisual media in comparison to the West. This research topic is particularly significant in that race has been rarely discussed in the globalization process especially in Asia for nationality, rather than race and ethnicity, has been a preferred marker of difference in the Asian context. She believes that her research agenda centered upon media globalization and racial reconfiguration in East Asia can diversify the academic spectrum of SIAS by expanding the program's area of expertise to include Asian media within a global context.
Teaching
At UW Tacoma, Dr. Ahn teaches following courses:
TCOM 230 Media Globalization and Citizenship
TCOM 340 Global TV
TCOM 461 Media and Identity in Asia
TGH 302 Global Imaginations
Her teaching goals within the courses are to equip the students with an understanding of critical theories on globalization and to examine many global media cases around the world with critical analysis.     
Affiliations
Dr. Ahn is currently a member of academic organizations including, National Communication Association (NCA), Society for Cinema and Media Studies (SCMS), Korean American Communication Association (KACA) and Center for Korean Studies at Jackson School of International Studies (UW Seattle).
Academic Service
Dr. Ahn has been a reviewer of Ethnic and Racial Studies and Journal of Intercultural Studies.
Honors and Awards
2019 Best Article Award for Junior Scholar, Japanese Studies HK+ Research Institution at Dankook University (South Korea)
2013 Top Paper Award, International and Intercultural Communication Division of the National Communication Association (NCA) 99th Annual Conference
2007, Best Thesis Award for Qualitative Research, Graduate school conference held by Korean Association of Broadcasting & Telecommunication Studies
Selected Publications
 "Rearticulating Black Mixed-Race in the Era of Globalization: Hines Ward and the Struggle for Koreanness in Contemporary South Korean Media," Cultural Studies, 28 (3), 391-417.  2014
"Global Migration and the Racial Project in Transition: Institutionalizing Racial Difference through Multiculturalism Discourse in South Korea," Journal of Multicultural Discourses, 8 (1), 29-47.  2013
"Transforming Korea into Multicultural Society: Reception of Multiculturalism Discourse and its Discursive Disposition in Korea." Asian Ethnicity, 13 (1), 95-107. 2012
(co-authored with Sang-Gil Lee) "Multiculturalism and Media/Cultural Studies." Korean Journal of Journalism & Communication Studies, 51 (5), 58-84. 2007
(co-authored with Hee-Eun Lee & Kyung-Han Yoo) "Strategic Multiculturalism and Racialism in Television Advertising. Korean Journal of Communication & Information, (39), 473-505. 2007
(co-authored with Jung-eun Hong, Seol-hee Lee & Sook-hyun Kim) "A Study on Korean Girls' Play-Culture Using the Mobile Phone," Media, Gender & Culture, (5), 162-200. 2006
 "Desiring Biracial Whites: Cultural Consumption of White Mixed-Race Celebrities in South Korean Popular Media," Media, Culture & Society, 37 (6), 937-947. 2015
"Mixed-Race: From Pathology to Celebration," In Christopher P. Campbell (ed), The Routledge Companion to Race and Media (pp. 250~258). London; New York: Routledge. 2016
"Korean Multiculturalism and Its Discontents," In Koichi Iwabuchi, Hyun Mee Kim, & Hsiao-Chuan Hsia (eds), Multiculturalism in East Asia: A Transnational Exploration of Japan, South Korea and Taiwan (pp. 21-36). Rowman & Littlefield International. 2016
Mixed-Race Politics and Neoliberal Multiculturalism in South Korean Media (Palgrave Macmillan). 2018
(co-authored with Tien-wen Lin) "The Politics of Apology: The 'Tzuyu Scandal' and Transnational Dynamics of K-Pop." International Communication Gazette 81(2): 158-175. 2019
"Anti-Korean Sentiment and Online Affective Community in Taiwan." Asian Journal of Communication 29(6): 445-463. 2019
(co-authored with Hyewon Park) "Dealing with Hate Speech: Voices from Young Resident Koreans in Japan." Asian Journal of Social Science 47(6): 677-700. 2019