Anne Taufen, Ph.D., MGA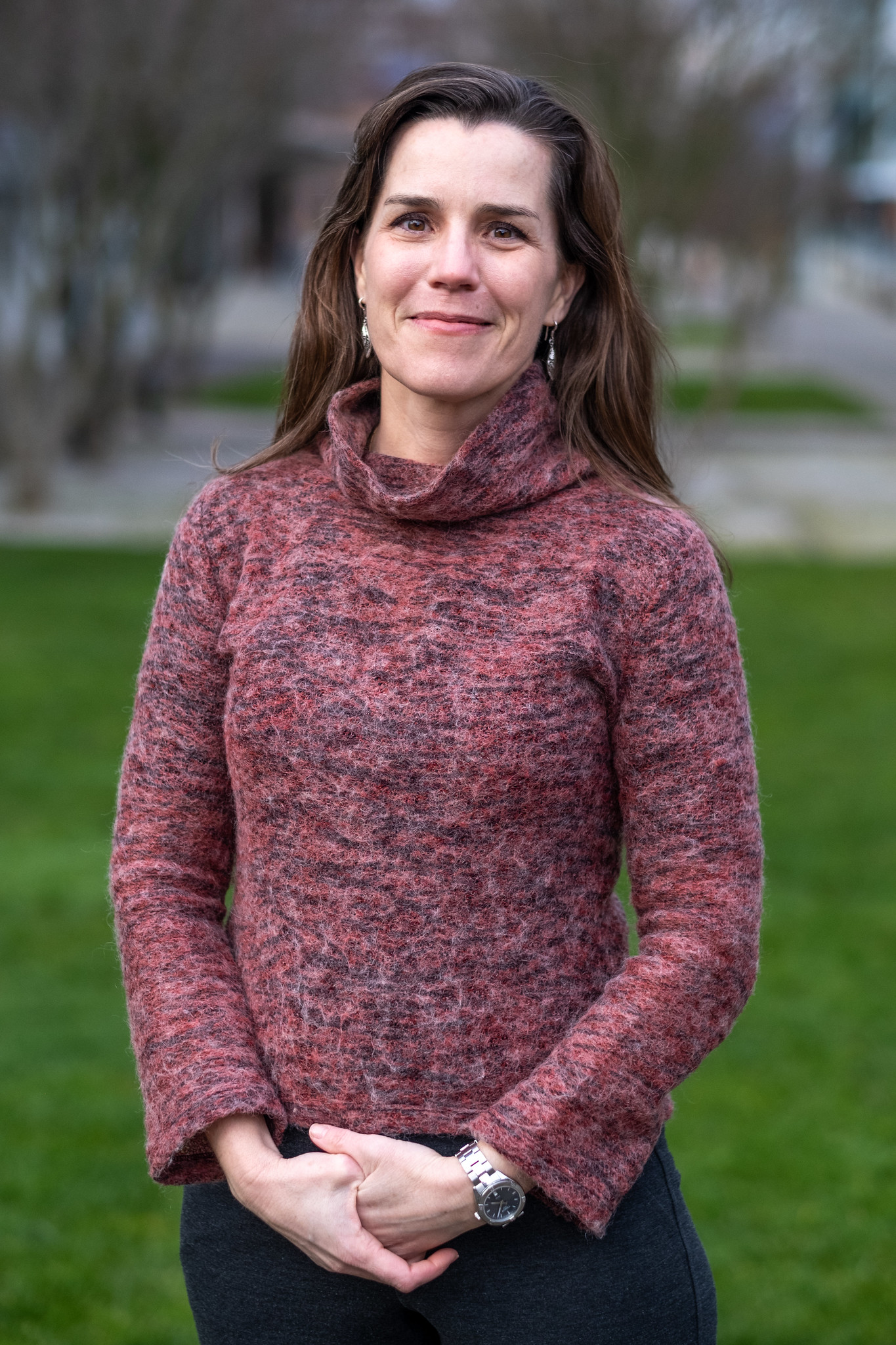 Degrees
University of California, Irvine
Government Administration
University of Pennsylvania
English and French Literature
Anne Taufen joined the Urban Studies faculty at the University of Washington Tacoma in 2008, and was tenured in 2015. Her research focuses on equitable governance, port city infrastructures, and the social-ecological networks of urban regions.
Teaching, Service, Research
Dr. Taufen was hired to implement the BA degree in Sustainable Urban Development, the first of its kind in the US. As part of the successful launch of this degree, she created the Urban Studies Forum Urban Studies Forum in 2010.
Building on this commitment to engaged pedagogy and equitable development, Dr. Taufen led the creation of the MA in Community Planning, in 2015. This graduate program trains students to be change agents and leaders in creating just, livable, and inclusive communities, in the South Sound and beyond. You can read more about the MACP here and you can view some of the first studio projects here. Dr. Taufen currently serves as the Graduate Program Coordinator, and enjoys keeping in touch with our growing ranks of alumni, who are working in local and regional non-profits, in research and advocacy, and at all levels of government.
In 2017-2018, Dr. Taufen agreed to serve as a faculty co-director for the UW Livable City Year program during its partner year with the City of Tacoma. In this role, she made sure that UWT faculty and courses remained visible, helping to match nearly half of the projects with Tacoma faculty, and drawing attention and resources to what would become the Office of Community Partnerships. You can read more here.
Dr. Taufen represents the UW on the Steering Committee for the Sustainable Cities and Landscapes hub of the Association of Pacific Rim Universities (APRU), where she has led a working group on port city waterfronts since its inception. Currently, she is co-editing a Handbook of Sustainable Cities and Landscapes in the Pacific Rim (Routledge, forthcoming 2021) (with Yizhao Yang, University of Oregon), and is an instructor for the Asia-Pacific Mayors' Academy, a partnership between APRU and UN-ESCAP.
Community
Beyond her academic commitments, Dr. Taufen serves on the board of Citizens for a Healthy Bay (CHB), which for 30 years has led community advocacy for the health of South Sound marine waters, and takes a strong stance for climate justice and racially, culturally inclusive waterway development; she is also an active volunteer with Tacoma Urban Performing Arts Center (T.U.P.A.C.), a Black-led classical arts and youth education organization.
Publication Date
Bibliographic Citation

2019

Taufen, Anne. (2019) "Politicisation of Community Development: Universities as Boundary Objects" Chapter 11 in Politics and Conflict in Governance and Planning, ed. Ayda Eraydina and Klaus Frey. London: Routledge.

2018

Taufen, Anne, "Dear Prudence: Power, Campus-Community Collaborations, and the Elusive Space Between Constructive Disruption and Neoliberal Subcontract" (2018). Conflux. 12.
https://digitalcommons.tacoma.uw.edu/conflux/12

2018

Barry, Janice, Megan Horst, Andy Inch, Crystal Legacy, Susmita Rishi, Juan J Rivero, Anne Taufen, Juliana M Zanotto, Andrew Zitcer (2018) Unsettling Planning Theory. Planning Theory 17(3): 418-438. *alphabetical authorship
https://journals.sagepub.com/doi/abs/10.1177/1473095218763842

2017

Wessells, Anne Taufen and Raul Lejano. (2017). Urban waterways and waterfront spaces: Social construction of a common good. Journal of the Southwest. 59(1-2): 106-132. https://muse.jhu.edu/article/664801/summary Project MUSE - Urban Waterways and Waterfront Spaces: Social Construction of a Common Good muse.jhu.edu Ways of Knowing the Urban Waterway: Construction of a Shared Commons. Urban waterway redevelopment is a worldwide phenomenon of notable policy significance. It occurs at the intersection of a number of related trends (Desfor et al., 2012; Hein, 2011).

2017

Taufen Wessells, Anne (2017) Public Reason and the Planning Academic. Planning Theory and Practice 18(1):163-167.
https://www.tandfonline.com/doi/full/10.1080/14649357.2016.1271507

2015

Goldstein, Bruce, Anne Taufen Wessells, Raul Lejano, and William Butler. (2015; Online First, 2013). Narrating Resilience: Transforming Cities Through Collaborative Storytelling. Urban Studies. 52(7): 1285-1303.
https://journals.sagepub.com/doi/abs/10.1177/0042098013505653

2014

Wessells, Anne Taufen. (2014). "Ways of Knowing the Los Angeles River Watershed: Getting from Engaged Participation to Inclusive Deliberation," chapter in Varieties of Civic Innovation: Deliberative, Collaborative, Network, and Narrative Approaches, eds. Carmen Sirianni and Jennifer Girouard. Nashville: Vanderbilt University Press.

2014

Wessells, Anne Taufen. (2014). Urban blue space and the "project of the century": Doing justice on the Seattle waterfront and for local residents. Buildings. 4(4): 764-784.
https://www.mdpi.com/2075-5309/4/4/764

2013

Dierwechter, Yonn and Anne Taufen Wessells. (2013). The Uneven Localisation of Climate Action in Metropolitan Seattle. Urban Studies. 50(7):1368-1385. selected for inclusion in 2017 Virtual Special Issue, "Urban debates for climate change after the Kyoto Protocol" ed. Yong Tu. http://journals.sagepub.com/page/usj/collections/virtual-special-issues/...

2011

Wessells, Anne Taufen. (2011). "The 'ultimate team sport'?: Urban waterways and youth rowing in Seattle," chapter in The Paradox of Urban Space: Inequity and Transformation in Marginalized Communities, eds. Sharon E. Sutton and Susan P. Kemp, London: Palgrave Macmillan Press.

2010

Wessells, Anne Taufen. (2010). Place-based conservation and urban waterways: watershed activism in the bottom of the basin. Natural Resources Journal, 50(2), Summer 2010.
https://digitalrepository.unm.edu/cgi/viewcontent.cgi?referer=https://ww...

2006

Lejano, Raul and Anne Taufen Wessells. (2006). Community and Economic Development: Seeking Common Ground in Discourse and Practice. Urban Studies. 43(9): 1469-1489, August.
https://www.jstor.org/stable/43197519?seq=1#metadata_info_tab_contents