Tyler Budge, M.F.A.
Associate Teaching Professor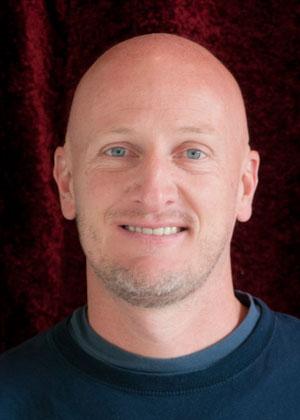 About
Degrees
M.F.A.
Sculpture
Illinois State University
2002
B.F.A.
Sculpture, Minor in Korean
Utah State University, Logan
1999
Introduction
I am an artist who works primarily in sculpture, site-specific installation, kinetics and video projection. My works reference metaphors represented by objects or images to autobiographically address personal experience. My art has explored issues of infertility, site displacement, reconciliation with self and the constructs of gender. I continually question the meaning of making, the role of art in society and its power to create change in the self and/or community.
The courses I teach at the University of Washington Tacoma encourage students to consider how creative work can move beyond the art pedestal into a socially conscious arena.
Current Research
I am currently working on a body of work that explores the constructs of gender. By playing with "little boy" toys again, I am attempting to understand gender stereotypes and expectations perpetuated through the objects we play with as children.
I have three ongoing projects that are exploring this subject:
"The Little Train that Almost Did" is a very large mixed media installation. A model train teeters on the edge of disaster as it climbs a blatantly masculine structure.
"Horsing Around" is a hobby horse blown into large glass bubbles. The installation explores gender expectation, hopes and fragility.
"Melodic Milk" is a mixed media kinetic sculpture with large glass bubbles and fragmented hobby horses float on a body of water. The sculpture addresses the beauty of precarious childhood choices and mocks attempts at fixing mistakes.
Teaching
I teach courses that explore three themes central to my personal creative work:
The intersection of site, self and audience

Landscape in Contemporary Art TARTS 240
Site Specificity in Art TARTS 390 Art and the Public TARTS 407

These courses explore how we are influenced by geography or environment. Students examine the multiple ways in which three-dimensional form, spatial relationships and societal influence inform the notion of place.

Manipulation of materials and objects

3-D Art and Contemporary Approaches to Sculpture TARTS 280
Ideas Through Objects: A Conceptual Approach to Art TARTS 367

These courses explore an objects ability to communicate. The courses emphasize the development of personal aesthetics and process. Ultimately, students utilize their understanding of semiotics and metaphor to manipulate and/or create new objects to tell their stories.

Identity

Reconstructing Self in Art TARTS 391

This course examines how we, as individuals, continually reconstruct personal identity in an attempt to deal with change.

I also advise independent study students doing Directed Research (TIAS 499).
Affiliations
College Art Association
why be collective