Sarah A. Chavez, Ph.D.
Assistant Teaching Professor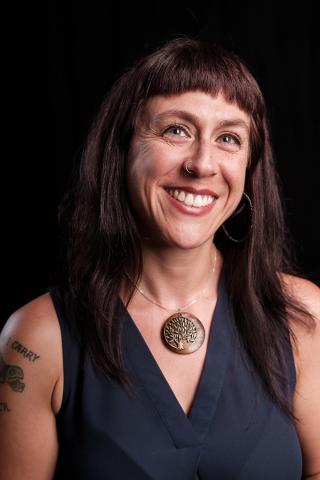 About
Degrees
Ph.D.
English & Ethnic Studies
University of Nebraska – Lincoln
2014
M.A.
Creative Writing, Poetry
Ball State University
2007
B.A.
English Literature
California State University of Fresno
2003
Introduction
Sarah A. Chavez graduated in 2014 with her PhD in Creative Writing and Interdisciplinary Certification in Ethnic Studies. Her dissertation focused on the performance of intersectionality, specifically between Chicanidad, socio-economic stasis and movement/working class identity, and gender identities. Focusing on the creation of poetry and creative nonfiction that negotiates the emotional life of these embodied experiences and critical writing that interrogates existing and future representations of performance in literature and popular culture, her work looks to celebrate inclusive ethnic/racial identities while also questioning the historical construction of identities that have been used both to coalesce group membership, as well as exclude.
Using the guiding principles of interdisciplinarity, Dr. Chavez's creative and critical work is particularly interested in multi-genre platforms, hybrid genres, and contemporary uses of established poetic form. Her story-telling-focused poetry and prose has been published both individually, as well as collected. Her current writing projects utilize oral tradition story-telling techniques, lyricism, and fragmentation.
Current Research
Current collections in progress: Halfbreed Helene Navigates the Whole -- a collection of poems which follows the experiences of a queer working-class mestiza attempting to fit into a binary world structure.
When Turtle First Began to Carry the Earth - a collection of origin story poems borrowing from the Indigenous North American myths of the turtle who carried the world. These narrative poems are told from the point of view of Turtle and posits the possibility of experiences if Turtle had agency during the 21st century.
Future projects consist of creative nonfiction focused on food as cultural connection, an anthology of mestizaje-focused essays, and possible article project(s) on the comfort of watching superhero films and television as a form of familial connection.
Affiliations
Macondo Writers Workshop
Latin@s United in the South Sound (LUSS)
The Association of Writers and Writing Programs (AWP)
Modern Language Association (MLA)
National Women's Studies Association
Popular Culture Association/ Association of American Culture
Latino Studies Minor, Faculty
Faculty Council, CAC Representative
Scholarly Interests
Dr. Chavez's scholarly/creative research interests: identity performance, specifically in regards to socio-economic class, race/ethnicity, and gender; constructions of Latinidad, construction and representation of queerness; food culture and cultural representation, reclamation, and reconstruction through food; health narratives in Chicanx cultural representations; mestizaje and cultural belonging
Creative interests in form: the epistle, narrative poetry & lyric storytelling, the elegy, Americanization of form
Teaching
TWRT 200: Introduction to Creative Writing
TWRT 270: Poetry Writing
TWRT 364: Cultural Food Writing
TWRT 365: Literary Editing and Publishing
TWRT 487: Advanced Creative Nonfiction
TWRT 499: Advanced Topics in Creative Writing—Poetry of Witness
TCORE 101: Introduction to Academic Writing
TLAX 290: Latinx Social Movements
Academic Service
Sundress Publications, Board Member
Poetry Coordinator, Best of the Net Anthology. March 2017-present.
Latinx Festival 2020 Planning Committee
Judge for Louder Than A Bomb competitions in Tacoma, WA.
Honors and Awards
Latinx Faculty Recognition, 2020
Marshall University Annual Woman of Color Award (faculty), 2017
2016 Top Ten "New" Latino Authors to Watch (and Read). LatinoStories.com
Nomination for Best of the Net 2016
Selected Publications
 Hands That Break & Scar. Sundress Publications, September 2017.
All Day, Talking. Dancing Girl Press, September 2014.
"Grandma Chavez's Mexican Arroz." Cookbook Recipes: The Sundress Blog. December 2, 2018.
"Mexican Americans and American Mexicans: An Etymology." Brevity: A Journal of Concise Literary Nonfiction (special race issue). Issue 53, Fall 2016.
"Ms. Poetry: Performance of the Female Body at the Front of the Room." VIDA Exclusive. April 2016.
"Working Class Poetry." The Sundress Blog. October 10, 2014.
"Oppositional Identities and the Mestiz@ Writer." Community Boundaries and Border Crossings by Ethnic Women Writers: Critical Essays. Ed. Kristen Lillvis, Molly Fuller, and Robert Miltner. Lexington Books. December 2016.
"Halfbreed Helene Makes Her Funeral Playlist." Hotel Amerika, Summer 2020.
"Halfbreed Helene's Mother Says Not to Call Herself That." Diode, Winter 2020.
"Halfbreed Helene Realizes Her Color Sadness Is A Color Privilege." Fresno Writers for Migrant Justice: Bilingual Chapbook. Summer 2019.
"Halfbreed Helene Watches T.V.," "Halfbreed Helene Thinks of Nothing," and "Halfbreed Helene Lists the 25 Reasons She Can Never Become A Better _________." Five:2:One #sideshow. August 2019.
"Dear Carole, You'd be impressed by all that I can do drunk" and "Dear Carole, There is no one with whom to have secrets." IDK Magazine, Issue 5. February 2019.
"Dear Carole, you would like it here" Tributaries, The New Nature Series: The Fourth River. August 2018.
"Dear Carole, In my dream last night" and "Dear Carole, I just filed my taxes." Pretty Owl Poetry. Spring 2018.
"Selections from All Day, Talking, Hands That Break & Scar, and "When Turtle Carried the Earth" series. Xicana: Mexican-American Authors of the 21st Century. Ed. ire'ne lara silva. University of Arizona Press. Forthcoming 2018.
"Dear Carole, Dermatologists call the body a 'trunk.'" Atticus Review, January 2018.
"When Turtle Carried the Earth" Part III. Voices on Unity: Coming Together, Falling Apart. Ed. Cat Pleska. Mountain State Press, forthcoming January 2018.