Rubén Casas
Assistant Professor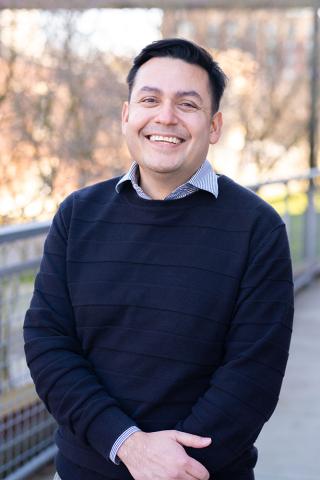 About
Degrees
Ph.D.
English: Rhetoric and Composition
University of Wisconsin-Madison
2016
M.F.A.
Creative Writing
Oregon State University
2008
M.A.
English
Chapman University
2006
B.F.A.
English: Creative Writing
Chapman University
2004
Introduction
Rubén Casas is an Assistant Professor in the School of Interdisciplinary Arts and Sciences, and an Adjunct Assistant Professor in the School of Urban Studies.
Dr. Casas serves as the faculty lead for the Urban Environmental Justice Initiative at Urban@UW.
Scholarly Interests
Rubén Casas studies rhetoric in urban contexts. His research and teaching emphasize the role of the built environment in public life. One key area of focus in both his research and teaching is the way people's ability to build community and establish a sense of place are materially and symbolically impacted by the processes and practices that have given a city its physical shape and form. Currently, Dr. Casas is studying the impact of long-commute times on people's use of neighborhood parks in Tacoma, Washington. His next project will examine how the edges and borders of public universities impact street life in the streets and neighborhoods near campuses.
Current Research
Dr. Casas is working on a book-length manuscript exploring the ways the U.S. nation-state leverages the built environment towards domestic state-making. The central concern of this book is this: like all modern liberal nation-states, the U.S. must continuously make its society legible if it is to perform its administrative functions of, for example, taxation and conscription. For a nation-state like the U.S., maintaining social legibility is an elusive task given the continuing presence and economic necessity of migrants, especially undocumented ones. In an increasingly diverse and factionalized society, one that historically and presently insists on categorizing people according to their difference—race, language, nationality, citizenship status—the nation-state must engage all manner of schemes to order and reorder a diversifying society. To wit: one of those is a built environment that promotes the physical and social mobility of some while simultaneously hindering and thwarting that of others.
Selected Publications
"Where I Am Writing From: An Introduction to Rhetorical Cartographies," a chapter in, Dynamic Activities for First-Year Composition
Publication Date: 2022
"A Place for Life: Striving Towards Accessible and Equitable Public Spaces for Times of Crisis and Beyond," chapter eight, in Global Reflections on COVID-19 Urban Inequalities, with Anaid Yerena, pp. 75 – 83
Publication Date: 2021
"Maps as Inscription of Power: Imposing Visibility on New York's "Shadow Transit," Rhetoric Review, 40.2
Publication Date: 2021
"The Place of Free Speech: Making Controversy Material at the Neoliberal University," Present Tense: A Journal of Rhetoric in Society, 8.1
Publication Date: 2019
"Precarious Economies: Capitalism's Creative Destruction in the Age of Neoliberal Campus Planning," with Phillip Goodwin, Ralph Cintron, Joshua Hanan, Leslie Rossman, and Nicholas J. Sciullo. Special issue of The Review of Communication
Publication Date: 2020