Yixuan Pan
she/her
Assistant Professor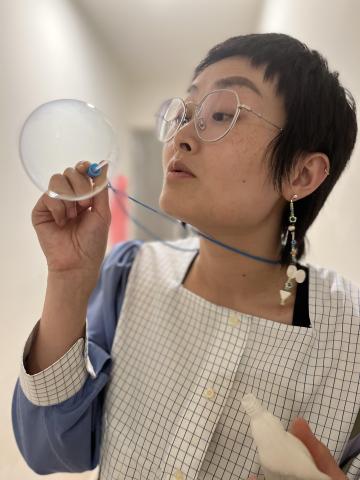 About
Degrees
M.F.A.
Glass
Temple University, Pennslyvania
B.A.
Studio Art
George Fox University, Oregon
B.A.
Art and Design
Central South University of Forestry and Technology, China
Introduction
I believe language forms a community, and it's the community that keeps art alive.
By dislocating language from its context and form, my work questions the linguistic structures people learn and unlearn. My practice employs various modes of presentation such as digital mixed media, performance, installation, choral conducting, urban walking, poetry composing, swimming pool exercising, lollipop casting, music therapy operating, broken glass foraging and recording, window cleaning, love letter whispering, and so on. Through this anti-disciplinary approach, my research and teaching work reimagines the influence of Western hegemony on global visual culture.
Current Research
Currently, I am expanding on these ideas of collective miscommunication and cultural dislocation by making an immersive ASMR cooking show in which I lead participants through a series of collective cooking activities to make Chinese dumplings. By transforming an episode of our isolated everyday lives into a collaborative cooking orchestra, this project brings awareness to the diminished labor of immigrants, reminding us of the pleasurable sensations of cooking, and restoring our intimacy in the upcoming post-pandemic world.
Teaching
TARTS 230 Issues in the Arts
TARTS 266 Artists as Visionary and Dreamers
TARTS 393 Urban Walking as Creative Practice
TARTS 395 Community-Based Arts Practice
TARTS 406 Labor, Globalization and Art
TIAS 305 Seminar in Interdisciplinary Arts & Sciences
Honors and Awards
2023 Tacoma Artists Initiative Program Award, Office of Arts & Cultural Vitality in the City of Tacoma, Tacoma, WA
Husky Sustainability Fund, University of Washington, Tacoma Campus, WA
2022 COIL Fellowship, University of Washington, WA