Sharon Gavin Fought, RN, Ph.D.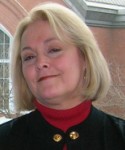 Degrees
University of Texas - System School Of Nursing (Austin)
University of Maryland - Walter Reed Army Institute of Nursing (WRAIN)
Sharon Gavin Fought's clinical experience and expertise is in emergency and critical care, and she has held positions as a clinical nurse specialist, head nurse and staff nurse in critical care and trauma facilities in medical centers in Washington, D.C., Texas, Washington state and abroad.
Dr. Fought's education includes a B.S.N. from the University of Maryland and WRAIN program, a M.S.N. from the University of Texas System School of Nursing and a Ph.D. from the University of Texas. She has held faculty positions, teaching undergraduate and graduate students in critical care settings as well as RN-BSN students. Her faculty experience includes teaching bioethics for all majors and offering interactive distance learning courses. She has collaborated to develop critical care graduate courses and programs, revise RN-BSN curricula and initiate new degree programs. Offering CE regionally and nationally, she was a member of the team that developed and implemented the Trauma Nursing Core Course.
She has served in a number of administrative roles including Associate Dean and Associate Vice Chancellor.
Dr. Fought's scholarship interests include: transport of unstable patients within facilities, decision making, sleep rituals and therapies, and higher education and nursing education topics.