James Gawel, Ph.D.
Associate Professor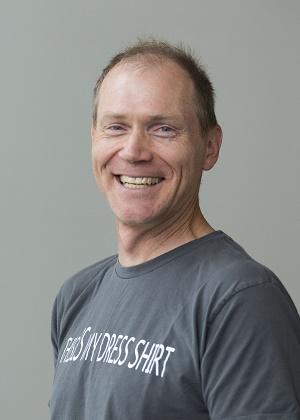 About
Degrees
Ph.D.
Environmental and Aquatic Chemistry, Civil and Environmental Engineering
Massachusetts Institute of Technology
1996
B.S.
Civil Engineering with Emphasis on Environmental Problems and Planning
Brown University
1990
Introduction
Dr. Jim Gawel is Associate Professor of Environmental Chemistry and Engineering at the University of Washington Tacoma. Jim got his B.S. in Civil Engineering from Brown University with an emphasis in Environmental Problems and Planning, and his Ph.D. in Civil and Environmental Engineering from MIT.
Jim has been teaching and doing research with undergraduates at UW Tacoma for 14 years, and headed the Environmental Science and Studies program here for 6 years. Jim began studying arsenic-contaminated urban lakes as a postdoctoral research associate at MIT, where he focused on arsenic mobility and limnology in contaminated Spy Pond in Arlington, MA. He has also been working actively to understand lake eutrophication, developing nutrient mass balance budgets for Spy Pond, Wapato Lake in Tacoma and Spirit Lake near Mount St. Helens. Jim is also the President of the Washington Lake Protection Association (WALPA), and has been working with WALPA to develop a state-wide volunteer lake monitoring program. Jim's other research interests include studying cellular bioindicators of metal stress in aquatic and terrestrial systems, making documentaries as public education and outreach tools to address water management issues and improving undergraduate environmental science education.
In his spare time he teaches rock climbing for the Tacoma Mountaineers.
Jim believes strongly in undergraduate research as an important learning experience and a valid means of conducting scientific research. Student researchers working with him have presented their research on arsenic fate and transport in area lakes, metal stress in mussels in Puget Sound and in forests in Norway, harmful algae dynamics in Puget Sound and more.
Jim teaches courses in environmental chemistry, pollutant fate and transport, limnology, public policy and more. His courses stress hands-on participation, field and lab work and service learning.
Current Research
My academic background is in the fields of environmental engineering and environmental chemistry. I teach courses in both of these areas, as well as other courses that examine environmental contamination and resource management in the larger social and political context. My research interests are broad and include the following:
The fate and transport of metal contaminants in terrestrial and aquatic systems;
Using bioindicator proteins in plants and animals to monitor physiological metal stress in the environment;
Urban water management issues related to anthropogenic influences; and
Environmental science education.
Teaching
TIAS 305: Seminar in Interdisciplinary Arts and Sciences
TESC 200: Environmental Seminar
TESC 300: Introduction to Environmental Science (lab course)
TESC 303: Sustainable Development in Africa ñ Study Abroad (field course)
TESC 310: Environmental Research Seminar
TESC 333: Environmental Chemistry (lab course)
TESC 345: Pollution and Public Policy
TESC 347: Maritime History and Science in the Pacific Northwest
TESC 349: Research at Sea (field course)
TESC 410: Environmental Science Senior Seminar
TESC 433: Pollutant Fate and Transport in the Environment (lab course)
TESC 435: Limnology (field course)
Affiliations
Washington Lake Protection Association (WALPA), President
Association for the Sciences of Limnology and Oceanography (ASLO)
Northwest Science Association
Sigma Xi
The Mountaineers - Climbing Programs, Chair
"Wake Up Wapato" Community Outreach and Education Events at Wapato Lake, Tacoma
Puget Sound Biomonitoring Project - with Lincoln High School and Tacoma's Science and Math Institute students (2010-present)
Academic Service
Washington Lake Protection Association (WALPA), President
Reviewer for Science of the Total Environment; Water, Air, Soil Pollution; Andean Geology; Archives of Environmental Contamination and Toxicology; Environmental Science and Technology; Environmental Pollution; Atmospheric Environment; Geochimica et Cosmochimica Acta; and Journal of Geoscience Education
MusselWatch Pilot Expansion Study - organization committee and volunteer coordinator for Commencement Bay study sites
Honors and Awards
2013 E3 Washington Green Apple Award - College/University Formal Educator
2010 U.S. Forest Service, Pacific NW Research Station award for new research at Mount St. Helens National Volcanic Monument
2010 UW Husky Green Award - Environmental Science and Studies
2010 UW Tacoma Distinguished Research Award Nominee
2009 UW Undergraduate Research Mentor Award
2006 University of Washington Bergen-Trondheim Faculty Exchange Program Award
2005 UW Tacoma Distinguished Teaching Award Nominee
2004 UW Brotman Award for Teaching Excellence - Environmental Science and Studies