James Gawel, Ph.D.
(he/him)
Associate Professor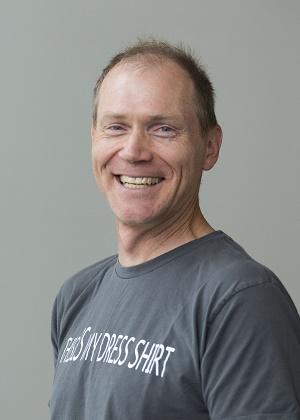 About
Degrees
Ph.D.
Environmental and Aquatic Chemistry, Civil and Environmental Engineering
Massachusetts Institute of Technology
1996
B.S.
Civil Engineering with Emphasis on Environmental Problems and Planning
Brown University
1990
Introduction
Dr. Jim Gawel is Associate Professor of Environmental Chemistry and Engineering at the University of Washington Tacoma. He got his B.S. in Civil Engineering from Brown University with an emphasis in Environmental Problems and Planning in 1990, and his Ph.D. in Civil and Environmental Engineering from MIT in 1996.
Jim has been teaching and doing research with undergraduates at UW Tacoma since 1999, and headed the Environmental Science and Studies program here for 6 years. His academic background is in the fields of environmental engineering and environmental chemistry. The overall theme of his scholarship is examining the impact of anthropogenic and natural disturbance forces on aquatic and terrestrial ecosystems, and the resulting implications for resource management and mitigation. He has developed multiple interrelated research areas within this larger theme: (a) the physical and biogeochemical factors that affect metal bioavailability and toxicity in aquatic systems; (b) the impact of metal pollutants on forest health; (c) nutrient cycling, invasive species dynamics, and ecological change in lakes; and (d) water resource management to address anthropogenic degradation. 
Jim believes strongly in undergraduate research as an important learning experience and a valid means of conducting scientific research. Student researchers working with him have presented their research on arsenic fate and transport in area lakes, metal stress in mussels in Puget Sound and in forests in Norway, harmful algae dynamics in Puget Sound and more. He has had 34 undergraduate student co-authors on his scholarly works, and his student collaborators have presented 75 research posters/talks at venues outside UW Tacoma (13 at national/international conferences). 
Jim has shaped his scholarship around UW Tacoma's urban serving and community engaged mission, reaching a broader audience through applied research, student and community involvement, and disseminating results through alternative venues that increase public accessibility and research translation.
Jim teaches courses in environmental chemistry, pollutant fate and transport, limnology, public policy, sustainability, and more. His courses stress hands-on participation, field and lab work, and service learning.
Current Research
My current research projects include the following:
The fate and transport of arsenic in lakes and impacts on ecological and human health in the Puget Sound lowlands
Nutrient cycling and invasive species dynamics in Spirit Lake, Mount St. Helens National Volcanic Monument
Water resource management of lakes and streams, including dissolved oxygen and nutrient cycling
Using remote sensing to monitor harmful algal blooms in small lakes
Teaching
TCORE 102: "Sustainability for a Better Future"
TESC 201: The Science of Environmental Sustainability
TESC 301: Sustainability in Action
TIAS 305: Seminar in Interdisciplinary Arts and Sciences
TESC 200: Environmental Seminar
TESC 310: Environmental Research Seminar
TCHEM 333: Environmental Chemistry (lab course)
TESC 345: Pollution and Public Policy
TESC 433: Pollutant Fate and Transport in the Environment (lab course)
TESC 435: Limnology (field course)
TESC 495: Research Experiences for Undergraduates (research-based course)
Affiliations
Washington Lake Protection Association (WALPA)
Association for the Sciences of Limnology and Oceanography (ASLO)
Northwest Science Association
North American Lake Management Society
Academic Service
Environmental Science Major Coordinator (2023-2024)
ACCESS in STEM mentor (2022-present)
SAM Diversity Workgroup (Chair 2021-present)
UW Faculty Council on Research (Chair 2023-2024)
UWT Sustainability Committee (Chair 2021-present)
Husky Sustainability Fund Committee (2022-present)
Faculty and Staff Advisory Council for the Office of Community Partnerships (2019-present)
Grit City Think and Drink monthly public talk series coordinator (2017-present)
Reviewer for Journal of Geochemical Exploration; Science of the Total Environment; Water, Air, Soil Pollution; Water Research; Environmental Earth Sciences; Andean Geology; Archives of Environmental Contamination and Toxicology; Environmental Science and Technology; Environmental Pollution; Atmospheric Environment; Geochimica et Cosmochimica Acta; and Journal of Geoscience Education (2002-present)
Honors and Awards
2023    UWT Distinguished Teaching Award nominee
2021    Washington Lake Protection Association Secchi Award
2018    UW Husky Green Award – for contributions to sustainability on the UW Tacoma campus
2018    National Association of Geoscience Teachers – On the Cutting Edge Exemplary Teaching Activity 
2016    UWT Distinguished Community Engagement Award winner
2013    E3 Washington Green Apple Award for Formal Educator in a College/University
2011    Pierce Conservation District Stream Team Award – UWT Environmental Program
2010    UW Husky Green Award winner – UWT Environmental Programs
2010    Nominated for the UWT Distinguished Research Award
2009    UW Undergraduate Research Mentor Award winner
Selected Publications
PEER-REVIEWED ARTICLES/CHAPTERS (*undergraduate student, **graduate student)
Hull, E.A., R. Stiling**, M. Barajas, R.B. Neumann, J.D. Olden, J.E. Gawel. Littoral sediment arsenic concentrations predict arsenic trophic transfer and human health risk in contaminated lakes. PLoS ONE, 18(10): e0293214. 

Fung**, S.R., E.A. Hull, K.A. Burkart, J.E. Gawel, A.R. Horner-Devine, R.B. Neumann. 2022. Seasonal patterns of mixing and arsenic distribution in a shallow urban lake. Water Resources Research, 58. 

Gawel, J.E., EC Cline, Z. Kmail, S. Hunter*, R. Cesa*, A.R. Ferro. 2022. Mercury drives metal stress response in red spruce foliage in high-elevation Appalachian forests of New England, USA. Water, Air, Soil Pollution, 233:370.

Hull, E.A., M. Barajas, K.A. Burkart*, S.R. Fung, B.P. Jackson, P.M. Barrett, R.B. Neumann, J.D. Olden, J.E. Gawel. 2021. Human health risk from consumption of aquatic species in arsenic-contaminated shallow urban lakes. Science of the Total Environment, 770:145318. 

Barrett, P.M., E.A. Hull, K. Burkart*, O. Hargrave*, J. McLean*, V.F. Taylor, B.P. Jackson, J.E. Gawel, R.B. Neumann. 2019. Contrasting arsenic cycling in strongly- and weakly-stratified contaminated lakes: Evidence for temperature control on sediment-water arsenic fluxes. Limnology and Oceanography, 64: 1333-1346. 

Barrett, P.M., E.A. Hull, C.E. King, K. Burkart*, K.A. Ott**, J.N. Ryan, J.E. Gawel, R.B. Neumann. 2018. Increased exposure of plankton to arsenic in contaminated weakly-stratified lakes. Science of the Total Environment, 625: 1606-1614. 

Gawel, J.E., C.M. Crisafulli, R. Miller. 2018. The new Spirit Lake: changes to hydrology, nutrient cycling and biological productivity. In: Crisafulli, C.M., and V.H. Dale (Eds.), Ecological Responses at Mount St. Helens: Revisited 35 years after the 1980 Eruption, Springer Nature, New York, NY, pp 71-95.

Gawel, J.E., J.A. Asplund*, S. Burdick*, M. Miller*, S.M. Peterson*, A. Tollefson*, and K. Ziegler*. 2014. Arsenic and lead distribution and mobility in lake sediments in the south-central Puget Sound watershed: The long-term impact of a metal smelter in Ruston, Washington, USA. Science of the Total Environment, 472: 530-537. 

Cline, E.T., Q.T.N. Nguyen*, L. Rollins*, J.E. Gawel. 2012. Metal stress and decreased tree growth in response to biosolids application in greenhouse seedlings and in situ Douglas-fir stands. Environmental Pollution, 160: 139-144. 

Horner, R.A., C.L. Greengrove, K.S. Davies-Vollum, J.E. Gawel, J.R. Postel, A. Cox**. 2011. Spatial distribution of benthic cysts of Alexandrium catanella in surface sediments of Puget Sound, Washington, USA. Harmful Algae, 11: 96-105. 

Gawel, J.E., and C.L. Greengrove. 2005. Designing undergraduate research experiences for nontraditional student learning at sea. Journal of Geoscience Education, 53: 31-36. 
DOCUMENTARY VIDEOS
Gawel, J.E., P. Lovelady, and T. Kapler. 2010. Water Undone: The Effort to Save the Puyallup River Watershed.  https://www.youtube.com/watch?v=wUrrBAIWSEo&t=33s 
Gawel, J.E., P. Lovelady*, S. Winch, and T. Kapler*. 2004. Urban Water: Sustainability in the Balance.  https://www.youtube.com/watch?v=cFi5WbIevAQ