Huatong Sun, Ph.D.
Professor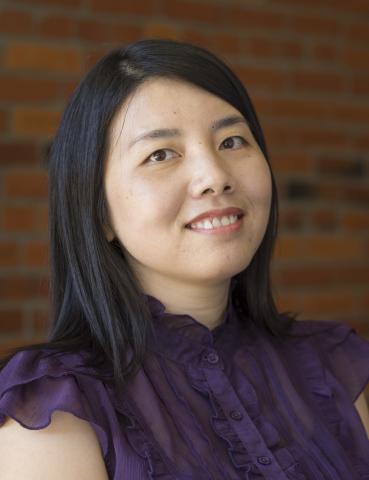 About
Degrees
Ph.D.
Communication and Rhetoric/Human-Computer Interaction
Rensselaer Polytechnic Institute
2004
M.S.
Rhetoric and Technical Communication
Michigan Technological University
2000
B.A.
Chinese Literature
Fudan University, Shanghai, PRC
1997
Current Research
Digital & Social Media, Global User Experience Design
Scholarly Interests
Digital & Social Media, Global User Experience Design, Human-Computer Interaction, Rhetoric and Technical communication, Social Computing, Informatics
Teaching
TCOM 220 Social Media
TCOM 320 Principles of Web Design
TCOM 330 Mobile Communication & Social Practice
TCOM 350 Editing and Design for Print Media
TCOM 420 Advanced Web Design
TCOM 440 Cross-Cultural Communication Design
TGID 420 Reflexive Design Portfolio
Honors and Awards
Jay R. Gould Award for Excellence in Teaching Technical Communication, Society for Technical Communication, 2022
Best Book in Technical or Scientific Communication Award by NCTE (National Council of Teachers of English): 2022, 2013
2022 Conference on College Composition and Communication (CCCC) Advancement of Knowledge Award
2022 CCCC Research Impact Award
2017 Theodore von Kármán Fellowship, RWTH Aachen University, Germany
Nell Ann Picket Award for the Best Article of Technical Communication Quarterly, 2006
CCCC Outstanding Dissertation Award in Technical Communication, 2005
The 8th Annual Localisation Research Centre Best Thesis Award, University of Limerick, Ireland, 2004
Selected Publications
Sun, H. (2020). Global social media design: Bridging differences across cultures. New York: Oxford University Press.
Sun, H. & Hart-Davidson, W. (2014). Binding the material and the discursive with a relational approach of affordances. ACM SIGCHI (Computer-Human Interaction) 2014 Annual Conference (22% acceptance rate). 3533-3542.
Sun, H. (2012). Cross-cultural technology design: Creating culture-sensitive technology for local users. New York: Oxford University Press.
Sun, H. (2013). Sina Weibo of China: From a copycat to a local uptake of a global technology assemblage. International Journal of Sociotechnology and Knowledge Development, 5(4), 27-37.
Sun, H. (2009). Towards a rhetoric of locale: Localizing mobile messaging technology into everyday life. Journal of Technical Writing and Communication, 39(2), 245-261.
Sun, H. (2006). The triumph of users: Achieving cultural usability goals with user localization. Technical Communication Quarterly, 15(4), 457-481.
Sun, H. (2001). Building a culturally-competent corporate Web site: An exploratory study of cultural markers in multilingual Web design. Proceedings of ACM Special Interest Group for Design of Communications (SIGDOC) 2001, Santa Fe, NM, 95-102.