Divya McMillin, Ph.D.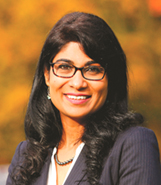 Degrees
International Communication and Cultural Studies
Indiana University, Bloomington
Dr. Divya McMillin (Ph.D. 1998, Indiana University Bloomington) is Professor of Global Media Studies in the School of Interdisciplinary Arts and Sciences, and Associate Vice Chancellor for Innovation and Global Engagement.
McMillin teaches courses on media globalization and participatory design, particularly as they relate to emerging economies. McMillin's innovations in program design have led to the creation and development of the Global Innovation and Design Lab, the Global Honors Program, the Institute for Innovation and Global Engagement, and the Communication major.
She has published three critically acclaimed books: International Media Studies (Blackwell 2007), Mediated Identities: Youth, Agency, and Globalization (Peter Lang, 2009), and Place, Power, Media (Peter Lang, 2018). Her publications on media audiences and participatory design are published in top-tiered journals and anthologies, meriting her Top Paper Awards from the International Communication Association. McMillin is the recipient of the UW Tacoma Distinguished Research Award (2012), Distinguished Teaching Award (2017), and Community Engagement Legacy Award (2021).