Loly Alcaide Ramirez, Ph.D.
Associate Professor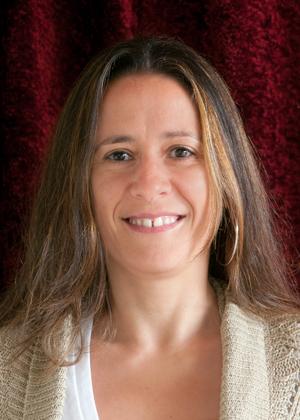 About
Degrees
Ph.D.
Spanish
Purdue University
2006
M.A.
Spanish
Purdue University
2001
B.A.
English Language and Literature
Universidad de Granada
1998
B.A.
Spanish Language and Literature
Universidad de Granada
1996
Introduction
I was born in Spain at the end of the Franco dictatorship and experienced firsthand the transformation of my country from extremely conservative and repressive to a liberal democracy with an economic boom. My parents, though working class and without a formal education, gave me a passion for learning and traveling that has shaped my life and my research.
I came to this country initially to improve my English. My experience in a small town in the Midwest was one of deep cultural shock and identity awareness. This experience initially created in me a profound sense of isolation and fragmentation, but it also forced me to analyze my own identities as Spaniard, as a woman, and as an immigrant. I decided to pursue my studies in the United States to examine in depth migration processes and how they affect identity. Throughout my years at Purdue University (where I got my Masters Degree in Spanish with a minor in Womens Studies and a PhD in Latin American Literature), the themes of migration, gender, and identity linked my personal experience to my research. My passion for Latin America had started years before when, as a young woman, I read the works of García Marquez, Isabel Allende and Julio Cortázar. These works made me think differently about identity and the place of Spain in a Pan-Hispanic culture. As I researched the literary works of Latin American women, I was immediately attracted to women travelers and migrants, who defied conventions to make a new life in the host country and who challenged labels imposed on them. Thus, the themes that attract me as a researcher have a deeply personal meaning for me: migration, travel and how these shape and change different aspects of identity for women.
Current Research
Most of my scholarly work to date applies an interdisciplinary research framework to a cross-cultural setting by analyzing violence, the representation of the nation and the interconnections of race, gender, class, and sexuality in womens writing and art from the Hispanic Caribbean and its diaspora in USA. I am interested in how migration, transnationalism and the reconceptualization of the nation can be observed not only in literary texts but also in film and art.
In my book Violencia, género y migración en el Caribe hispano: Reescribiendo la nación, I argue that violence implies unequal power relations and the imposition of an imperialist system over Other/s. Violence in all its forms (gender, racial, sexual, even violence against the self) is the outcome of the forcing of a monolithic identity on subjectivities that are in constant movement. This form of oppression is overreaching, having its more important manifestation in the rhetoric of the nation, which in Latin America, has been elaborated by male, white, upper class citizens. Whoever challenged their hegemonic definition of nation was situated in the margins. From the 19th century on, with the independence movements and the appearance of the new Latin American nations, woman has been used as a metaphor for the nation. I assert that in a world increasingly global, women writers and artists of the Hispanic Caribbean defy that notion by rewriting the nation, blurring its borders with their constant migration and with their inclusion of members that have been traditionally oppressed and positioned outside. Thus the task of Hispanic Caribbean women writers and artists is not only to bring to light the consequences of this violence on the body and the psyche of the colonized but also to find power and subversion in their representations of that violence.
My new research projects revolve around issues of hybrid identities, religion, motherhood, migration, memory and their representation in art, film and literature by Hispanic women in the US and well as in Latin America. 
Teaching
I enjoy teaching Spanish at the elementary and intermediate level. Besides those classes these are the classes I frequently teach for the Hispanic Studies major:
TSPAN 302 Spanish Conversation
TSPAN 351 Intro to Hispanic Literary Studies
TSPAN 352 Intro to Hispanic Cultural Studies
TSPAN 425 Advanced Communication Skills
TSPAN 374 Hispanic Culture Through Film
TSPAN 451 Hispanic Women Writers
TSPAN 480 Contemporary Spanish Culture
I also teach these cultural classes in English related to Hispanic culture:
THISP 377 Spanish Film
THISP 400 Afro-Hispanic Culture
THISP 410 The Caribbean Basin: Selected Topics
THISP 465 Latin America Visual Arts
THISP 475 Latin American Women Writers
Affiliations
Latin American Studies Association
The American Council on the Teaching of Foreign Languages
Modern Language Association
Asociación Internacional de Literatura y Cultura Femenina Hispánica
Member of the editorial board of art journal Art and Identity Politics, published by the University of Murcia, Spain.