Ever Jones, M.F.A.
Teaching Professor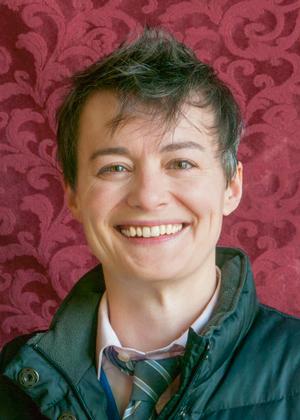 About
Degrees
M.F.A.
Creative Writing
University of North Carolina Wilmington
2008
B.F.A.
Studio Art
Kansas State University
2001
Introduction
I am a Lecturer in poetry and creative writing at the University of Washington Tacoma. My research investigates human relationship to place and environment, and how this is expressed through the evolution of our environmental imagination. I am a multi-genre writer, working in both poetry and creative non-fiction. These works explore and challenge form as a way to invigorate the senses, drive the imagination and explore rhetoric through expression. I teach courses focused on introductory and advanced poetry, environmental composition and rhetoric, creative non-fiction writing and creative writing.
Current Research
I am currently working on a manuscript of poems that express and argue for a return to sensual awareness as a road map to aid a culture disillusioned by unsustainable consumerism. The manuscript seeks to understand sustainability as a perception that begins with directly experiencing each moment as a connected, sensual connection.
I am also writing a book of essays that explores loneliness as a contemporary species disease, which I expect to complete in summer 2014.
My research investigates the relationship between art and social change in contemporary writing. How online media and inter-genre arts might be a solution to the silence around poetry in our current culture.
Teaching
I teach creative writing courses in poetry and creative non-fiction, as well as composition and rhetoric classes for CORE and IAS. My classrooms function as communities of learners, so independent thinking drives participation in group discussions. Most of my classes rely on experiential learning, following the notion that we must learn what we don't know about what we know.
TCORE 101 Academic Writing
TWRT 112 Academic Writing
TWRT 200 Introduction to Creative Writing
TWRT 387 Introduction to Creative Non-fiction
TWRT 370 Introduction to Poetry Writing
TWRT 470 Advanced Poetry Writing
Affiliations
Affiliations with the Tacoma Art Museum
Affiliations with Hugo House, a literary arts organization
Founder of Ground Swell Anthologies (upcoming online arts & activism forum, sometime in 2014)
Honors and Awards
Eco Arts Award Grand Prize Winner, "Wilderness Lessons," Eco Arts Awards
Terrain.org Poetry Contest Finalist: November, Biscuit, Ligature and Desert Autopsy (2012)
Distinguished Teaching Award Nominee, UW Tacoma, 2014
Faculty Innovation Grant, UW Tacoma