Erik McDonald, M.S.
Associate Teaching Professor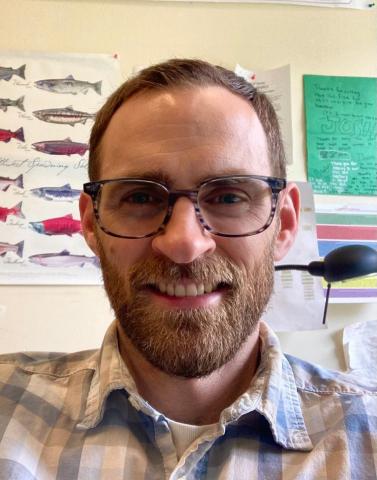 About
Degrees
M.S.
Biological Sciences
Central Michigan University
2008
B.S.
Biological Sciences
Central Washington University
2006
Introduction
As an undergrad, I gained valuable fisheries experience with juvenile Chinook salmon (O. tshawytscha). We were looking at the abundance, diet and habitat use of juvenile salmon in the Yakima, Cle Elem and Teanaway Rivers. This was achieved by doing snorkel surveys, measuring microhabitat characteristics and doing gastric lavages (stomach pumping). I also worked on a PIT (Passive Integrated Transponder) tagging program run by Pacific Northwest National Laboratory. We collected juvenile Chinook salmon with beach seines and purse seines in the Hanford Reach of the Columbia River. Juveniles were then tagged on shore and released a short time later. I went on to study the diet, growth and habitat use of larval fishes in the Detroit River (a connecting channel between Lake Huron and Lake Erie). This project included collaborators from both Central Michigan University and the U.S. Geological Survey.
Current Research
I currently offer a community-engaged capstone opportunity that connects UWT Environmental Science students with local middle school students and examines coho pre-spawn mortality in Swan Creek.
Scholarly Interests
Coho pre-spawn mortality (see current research section)
I am also interested in learning how practices from Indigenous Science and Western Science can be deployed together to explore future scientific endeavors.  
Teaching
I teach a variety of classes including TBIOL 110 (General Biology), TBIOL 120 (Ecology, Evolution, Genetics, and Biodiversity), TBIOL 234 (Biology, History, and Politics of Salmon in the PNW), and an online course (TESC 102) about urbanization and aquatic ecosystems.
I also teach a capstone course (TESC 499) as described in the "Current Research" section.
Affiliations
I am a board member on the Puyallup River Watershed Council (PRWC).  I also chair the PRWC Communications Committee and serve as the PRWC representative on the Swan Creek Implementation Team.