Riki Thompson, Ph.D.
Associate Professor, Rhetoric & Writing Studies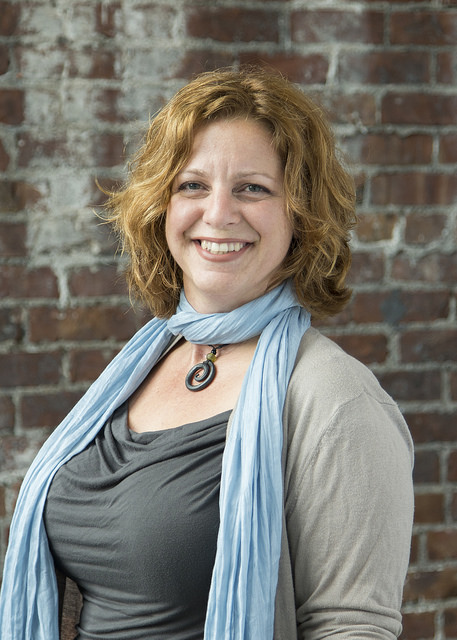 Degrees
English - Language and Rhetoric
University of Washington Seattle
English - Language and Rhetoric
University of Washington Seattle
University of Washington Seattle
University of Washington Seattle
My scholarship and teaching reflect an interest in the problems generated by the dynamic nature of language, technology and ideology, specifically how people negotiate identity and communities through language and technology.
In the classroom, I engage students through active learning, reflection on learning and integration of new technologies that provide tools to evaluate and employ language effectively. I use a "just in time" approach in all my classes so I can make adjustments based on student needs.
My research explores the relationship between self, story, language, literacy, technology and transformation, with an interest in how people gain acceptance into (or are excluded from) communities through know-how of technology, language ideologies and shared understandings about visual representations.
My current research looks to understand how people use online dating technologies to find connection. I employ interviews, observation, and analysis of online dating spaces to examine how people in various communities (including monogamous, non-monogamous, heterosexual, and LGBTQ+) negotiate digital communication platforms to represent self-identity and connect with potential partners.
I teach undergraduate and graduate level courses on research and argument, as well as special topics in Writing Studies. My classes take an active-learning approach, using learning to learn pedagogy to engage students through multimodal learning styles. If you observe my class, you will see a frenzy of activity; groups collaborating, papers shuffling, tables moving, students talking and writing. A typical day in my classroom includes seminars, small group work, class discussion, writing workshops, and online collaborative writing. 
Below is a list of courses I have taught and independent study projects I have supervised.
GRADUATE COURSES

TIAS 514 : Teaching Writing: Theory & Practicum
TIAS 513 : Graduate Research & Writing
TIAS 505 : MAIS Capstone
TIAS 501: Models and Critical Inquiry
 

UNDERGRADUATE COURSES

TWRT 464 : Teaching Writing
TWRT 330 : Visual & Written Rhetoric
TWRT 333: Writing through Comics
TWRT 211: Argument & Research in Writing

Technology & Transformation
Literacy & the Digital World
Connecting Digitally

TCORE 101: Introduction to Composition

Blog me! All about m/e-stories
What is America(n)?
(Trans)Forming Identity & History
Writing in the Rain: Debating Climate Change
 

INDEPENDENT STUDY MENTORING

Critical Discourse Studies
The Visual Rhetoric of the Border Wall
Special Education Legislation And Teaching Writing
Teaching Writing K-12
Porn, Power, & Discourse
Hip Hop Poetry & Teaching Writing
The Discourse of Mental Health And The Productive Member Of Society
A Critical Analysis of Homeless Discourse In America
National Council of Teachers of English
Conference on College Composition & Communication
International Gender & Language Association
Professional and Organizational Development Network in Higher Education
American Association for Applied Linguistics 
Society of Children's Book Writers and Illustrators: SCBWI
Work Featured
Grants & Awards
Interdisciplinary Teaching and Scholarship Collaboration Grants (Co-PI): Black women and sexualized media (2019)
Scholarship and Teaching Fund: Finding Connection in the Digital Age (2019)
Scholarship and Teaching Fund: Communication & Online Dating (2019)
Washington Student Achievement Council Educators for the 21st Century Professional Development Grant (2013-2015)
Founders Endowment Grant, UW Tacoma: Web-based Assessment Toolkit" (2009-2011)
Founders Endowment Grant, UW Tacoma: Writing in the Web 2.0 World" (2008)
Simpson Center for the Humanities, UW Seattle: Practical Pedagogy Lecture Series

Liberating Pedagogies: Locating Freedom in the Classroom (2004-2005)
Engaging the Culture of Power In and Out of the Classroom (2003-2004)
Publication Date
Bibliographic Citation

2019

Thompson, R. & McIlnay, M. (2019) Nobody Wants to Read Anymore! Using a Multimodal Approach to Make Literature Engaging. CLELE Journal, 7 (1). http://clelejournal.org/article-4-nobody-wants-read-anymore/

2018

Thompson, R. & Furman, R., (2018) "From Mass to Social Media: Governing Mental Health in the Digital Age." Sinchronia. 22(73). 398-429. http://sincronia.cucsh.udg.mx/pdf/73/a21_398_429.pdf

2017

Thompson, R. (2017). Writing through Comics. In A. Burger (Ed.), Teaching Graphic Novels in the English Classroom: Pedagogical Possibilities of Multimodal Literacy Engagement. New York, NY: Palgrave Macmillan.

2012

Thompson, R. (2012). Looking healthy: Visualizing disorder & wellness online. Visual Communication. 11(4). 395-420.

2012

Thompson, R., Furman, R., Enterline, M., & Sharfi, N. (2012). Poetry, masculinities & disability. Journal of Poetry Therapy, 25(3). 105-114.

2012

Thompson, R. (2012). Screwed up, but working on it: (Dis)ordering the self through e-stories. Narrative Inquiry. 22(1), 86-104.

2012

Thompson, R. & Lee, M. (2012) Talking with students through screencasting: Experimentations with video feedback to improve student learning. Journal of Interactive Technology & Pedagogy 1(1). http://jitp.commons.gc.cuny.edu/talking-with-students-through-screencast...

2012

Furman, R., Enterline, M., Thompson, R., & Shukraft, A. (2012) Poetry matters: A case study for poetry in social work. Journal of Social Intervention: Theory & Practice 21(1), 5-17.

2006

Thompson, R. (2006). Bilingual, bicultural & binominal identities: Personal name investment, (bi)cultural identity negotiation & the imagination in the lives of first generation Korean-Americans. Journal of Language, Identity & Education, 5(3), 179-208.

2004

Thompson, R. (2004). Trauma & the rhetoric of recovery: A discourse analysis of virtual healing journals of child sexual abuse survivors. JAC: A Journal of Composition Theory- Special Issue, Part 2: Trauma & Rhetoric, 24(3), 653-677.