Altaf Merchant, Ph.D.
Gary E. & James A. Milgard Endowed Dean; Professor of Marketing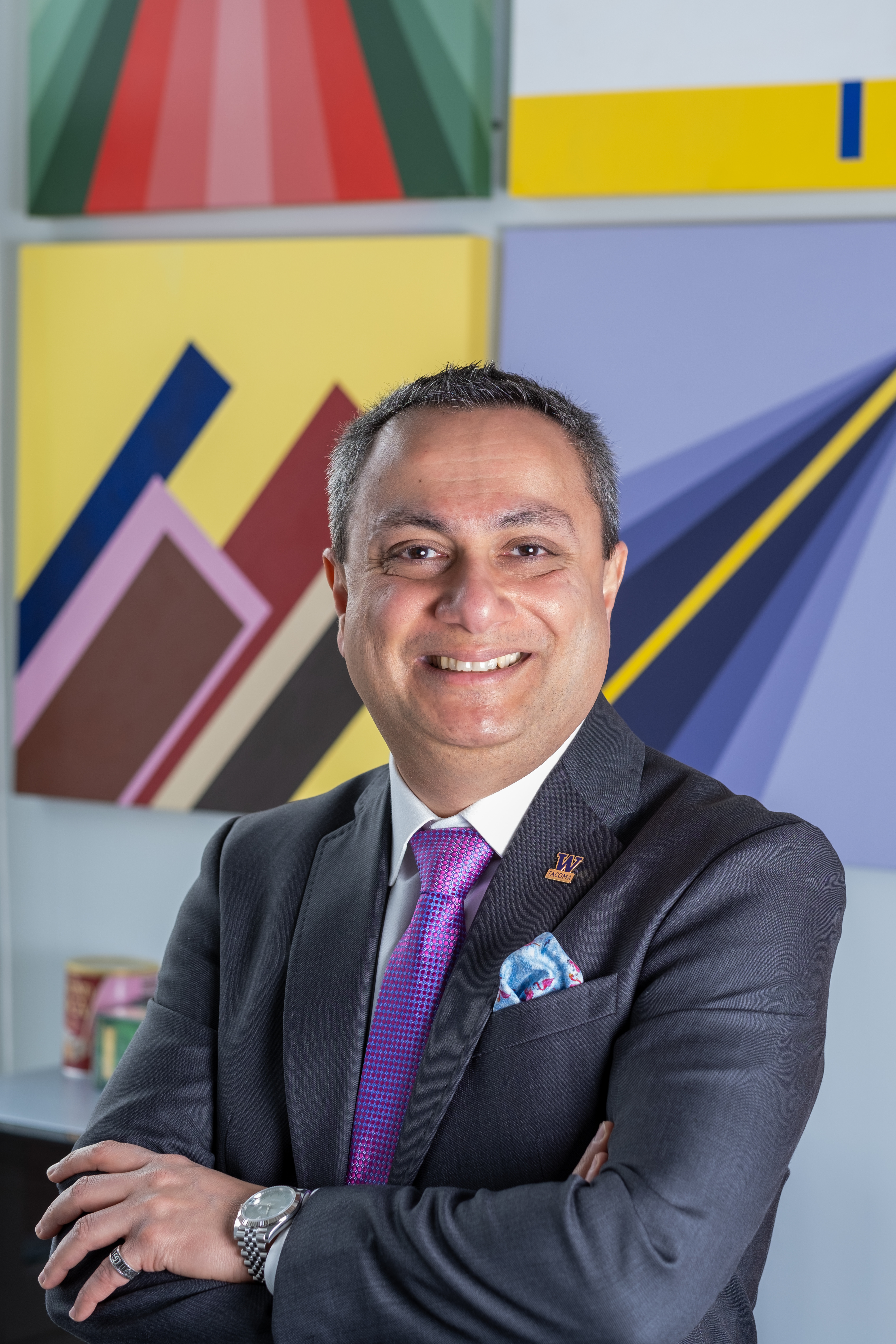 Dr. Merchant is the Gary E. and James A. Milgard Endowed Dean of the Milgard School of Business.
Dean Merchant is a familiar presence in the corridors of MSB. He has been serving on the faculty since his arrival at UW Tacoma in 2008, having been promoted twice to his current rank of Professor. As a professor he has taught marketing classes at the undergraduate and MBA levels. Since 2019, he has served as Interim Dean of the Milgard School.
Dean Merchant has a notable academic record as a pioneer in research on the role of nostalgia in advertising ("Merchant of Nostalgia" UW Tacoma's story from 2019). He has published more than 28 peer-reviewed articles and made more than 65scholarly presentations around the world. He is associate editor of the Journal of Advertising Research. He serves on the boards of Tacoma's Sound Credit Union and the Museum of Glass.
Dean Merchant grew up in Mumbai, India, and immigrated to the U.S. after getting his MBA from the University of Mumbai. He received his Ph.D. from Old Dominion University in Virginia. Before entering academia, Dean Merchant was a brand/marketing manager for more than a decade, launching products and campaigns internationally in Asia, Europe, and Africa for brands such as Lysol, Aquafresh and Sara Lee.
• Nostalgia
• Brand Heritage
• Cross-Cultural Issues
• Family issues and prosocial behaviors
2019 Academy of Indian Marketing-American Marketing Association Sheth Foundation Doctoral Consortium Distinguished Faculty
2018 UW Leadership Excellence Project participant (2018-2020)
2018 MBA Faculty of the Year Award, Milgard School of Business
2015 Recognized among ten most influential research on Children and Advertising (1972-2015) in the Journal of Advertising
2014 MBA Faculty of the Year Award, Milgard School of Business
2014 Dean's commendation for Outstanding Teaching Performance, Milgard School of Business
2013 Great Mind Award from the Advertising Research Foundation for best paper published in the Journal of Advertising Research
2013 Best Paper Proceedings, Academy of Management Annual Meeting
2013 Most Inspirational Faculty Award, Milgard School of Business
2008 Best Paper Award, International Journal of Nonprofit and Voluntary Sector Marketing
2007 Fellow, American Marketing Association-Sheth Foundation Doctoral Consortium
2007 Love of Learning Award, Phi Kappa Phi
2002 Glaxo Smithkline Spirit Award for business excellence for outstanding performance as a brand manager
1997 Dandekar Trophy, Bombay Management Association
1996 Khandelwal Trophy, Faculty of Management, University of Mumbai
Academy of Marketing Science
Journal of Advertising Research (impact factor: 2.034)
Associate Editor: 2017 - till date
Member, Editorial Advisory Board: 2014 - till date
Journal of Business Research
Member, Editorial Review Board : 2016 – till date
Media Mentions
• Introduction to Marketing
• Marketing Management
• Innovations Management
• Strategic Brand Management
• Retailing
| Publication Date | Bibliographic Citation |
| --- | --- |
| 2021 | Jain, V., Shroff,P., Merchant, A. and Bezbaruah, S. (2021), "Introducing bi-directional participatory place branding: a theoretical model with multi-stakeholder perspectives", Journal of Product & Brand Management, Vol. ahead-of-print No. ahead-of-print. https://doi.org/10.1108/JPBM-05-2020-2921 |
| 2021 | Rose, Mei, Gregory Rose, Altaf Merchant, and Ulrich Orth (2021), "Sports Teams Heritage: Measurement and Application in Sponsorship," Journal of Business Research, 124, 759-769. |
| 2019 | Orth, Ulrich, Gregory Rose, and Altaf Merchant (2019), "Preservation, Rejuvenation, or Confusion? Changing Package Designs for Heritage Brands," Psychology & Marketing, 36(9), 831-843. |
| 2019 | Jain, Varsha, Altaf Merchant, Subhadip Roy and John Ford (2019), "Developing an Emic Scale to Measure Ad-evoked Nostalgia in a Collectivist Emerging Market, India," Journal of Business Research, 99, 140-156. |
| 2018 | Merchant, Altaf, Kathryn Latour, John B. Ford and Michael Latour (2018), "Should Cookie Monster Adopt a Healthy Lifestyle or Continue to Indulge? Insights into Brand Icons," Psychology and Marketing, 35(1), 64-78. |
| 2018 | Pecot, Fabien, Altaf Merchant, Pierre Valette Florence and Virginie DeBarnier (2018), "Cognitive Outcomes of Brand Heritage: A Signaling Perspective," Journal of Business Research, 85, 304-316. |
| 2018 | Ford, John B., Altaf Merchant, Anne-Laure Bartier and Mike Friedman (2018), "The Cross-Cultural Scale Development Process: The Case of Brand Nostalgia in Belgium and the United States," Journal of Business Research, 83, 19-29. |
| 2017 | Mei Rose, Gregory Rose and Altaf Merchant (2017), "'Is Old Gold? How Heritage "Sells" The University to Prospective Students," Journal of Advertising Research, 57(3), 335-351. |
| 2017 | Merchant, Altaf, Gregory Rose, Sunmee Choi and Drew Martin (2017), "Cross-Cultural Folk-Tale-Elicitation Research on the Perceived Power, Humanistic and Religious Symbolisms, and Use of Money," Journal of Business Research, 74, 113-119. |
| 2016 | Merchant, Altaf, John B. Ford, Christian Dianoux and Jean-Luc Herrmann (2016), "Development and Validation of an Emic Scale to Measure Ad-Evoked Nostalgia in France," International Journal of Advertising, 35(4), 706-729. |
| 2016 | Rose, Gregory, Altaf Merchant, Ulrich Orth and Florian Horstmann (2016), "Emphasizing Brand Heritage: Does it Work? And How?" Journal of Business Research, 69(2), 936-943. |
| 2015 | Davalos, Sergio, Altaf Merchant, Gregory Rose, Brent Lessley, and Ankur Teredesai (2015), "The Good Old Days" an Examination of Nostalgia in Facebook Posts," International Journal of Human-Computer Studies, 83, 83-93. |
| 2014 | Salvador, Rommel, Altaf Merchant and Elizabeth Alexander (2014), "Faith and Fair Trade: The Moderating Role of Contextual Religious Salience," Journal of Business Ethics, 121 (3), 353-371.. |
| 2013 | Merchant, Altaf and Gregory M. Rose (2013), "Effects of Advertising-Evoked Vicarious Nostalgia on Brand Heritage," Journal of Business Research, 66(12), 2619-2625. |
| 2013 | Merchant, Altaf, Kathryn LaTour, John B. Ford and Michael S. LaTour (2013), "How Strong is the Pull of the Past: Measuring Personal Nostalgia Evoked by Advertising," Journal of Advertising Research, 53(2), 150-165. (THIS PAPER WAS AWARDED THE BEST PAPER PUBLISHED BY THE JOURNAL IN 2013). |
| 2012 | Rose, Gregory M., Altaf Merchant and Aysen Bakir (2012), "Fantasy in Food Advertising Targeted at Children." Journal of Advertising, 41(3), 75-90 (Showcased among 12 most important research papers published on Children and Advertising in the time period 1975-2015). |