Rajendra Katti, Ph.D.
Interim Director and Professor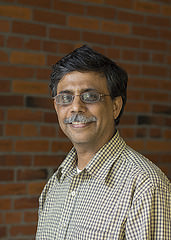 Degrees
Computer Science and Electrical Engineering
Washington State University
Computer Science and Electrical Engineering
Washington State University
Indian Institute of Technology
University of Washington Tacoma:
2015 - Present: Interim Director, Institute of Technology.
2014 - Present: CES Curriculum Committee Chair.
2015: Search Committee Member, one position in CSS, four lecturer positions in CSS.
2014: Search Committee Member, two positions in CES, one position in security.
Accomplishments as the Interim Director at UWT:
Responsible for day-to-day operations of the Institute of Technology that has 3 undergraduate programs and 2 masters programs. The Institute of Technology has about 780 students enrolled (600 undergraduate and 180 graduates)
Responsible for accreditation of three programs (computer science, computer engineering, and information technology)
Responsible for tenure, promotion, and evaluation of institute faculty
Responsible for creating a vision and strategic plan for the Institute of Technology
Responsible for holding Industrial Advisory Board meetings
Will be starting the BS EE program in Fall 2017
Improved the climate in the Institute of Technology by increasing transparency and fairness
TCES 230 - Digital Systems
TCES 312 - Electronics
TCES 101 & 102 - Intro to Computer Engineering
TCSS 540 - Theory of Computing
TCSS 343 - Algorithms
TCSS 431 - Network Security
Curriculum Development:
Developed a new course in Hardware for Cryptography.
Developed a Computer Engineering Curriculum for the new Bachelors degree in Computer Engineering. I now lead the effort in improving all aspects of the computer engineering program at NDSU.
I have incorporated real life examples from my experience at Intel into my courses. The students have consistently remarked that this has fiven them a new perspective on the course material.
I have developed five new courses in the ECE department. These are "ECE 494 Cryptography Protocols", "ECE 470 Digital Systems Testing", "Information Theory", "Cryptography Protocol Theory," and "ECE 775 Hardware for Cryptography". In these courses I give examples of my work at Intel.
| Publication Date | Bibliographic Citation |
| --- | --- |
| 2012 | Raj S. Katti and Aida Vosoughi, "On the Security of Key-based Interval Splitting Arithmetic Coding with respect to Message Indistinguishability," IEEE Transactions on Information Forensics and Security, Vol. 7, No. 3, pp. 895-903, June 2012. |
| 2011 | Raj S. Katti, Sudarshan Srinivasan, and Aida Vosoughi, "On the Security of Randomized Arithmetic Codes against Ciphertext-only Attacks," IEEE Transactions on Information Forensics and Security, Vol. 6, No. 1., pp. 19-27, March 2011. |
| 2011 | Rajendra Katti and Sudarshan Srinivasan, "Sub-optimal data compression and the subset sum problem," AEU-International Journal of Electronics and Communications, Vol. 65, Issue 1, pp. 53-61, Jan. 2011. |
| 2010 | Rajendra Katti and Rajesh Kavasseri, "Nonce Generation for the Digital Signature Standard,"  International Journal of Network Security, Vol. 11, No. 1, pp. 23-32, July 2010. 2 citations. |
| 2010 | Rajendra Katti, Rajesh Kavasseri and Vyasa Sai, " Pseudorandom bit generation using coupled congruential generators," The IEEE Transactions on Circuits and Systems—II: Express Briefs, Vol. 57, No. 3, Mar. 2010. |
| 2009 | Sudarshan Srinivasan, K. Sarkar and Rajendra Katti, " Verification of Synchronous elastic Processors," IEEE Embedded Systems Letters, Vol. 1, No. 1, pp. 14-18, Sept. 2009. |