Ka Yee Yeung, Ph.D.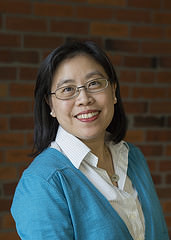 Degrees
Mathematics in Computer Science
University of Waterloo, Ontario, Canada
Mathematics in Computer Science and Actuarial Science
University of Waterloo, Ontario, Canada
My research focuses on the development of machine learning tools, their application to computational biology and the development of containerized tools to enhance the reproducibility of research. My passion is method and tools development for integration of multiple sources of big data. In particular, I am interested in the development of methods to effectively integrate heterogeneous high-throughput data sources in the construction of regulatory networks and the identification of biologically meaningful biomarkers.
I am currently serving as an external collaborator on a NIH-funded BD2K-LINCS Perturbation Data Coordination and Integration Center (U54HL127624).  The NIH LINCS project is generating millions of experiments, measuring the cell's response to drug and genetic perturbations.  Our goal is to develop computational methods and tools to build predictive models of complex diseases and drug responses.