Eric Madfis, Ph.D.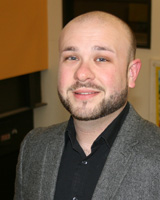 Eric Madfis, Ph.D., is an Associate Professor of Criminal Justice at the University of Washington Tacoma, where his research focuses on the causes and prevention of school violence, hate crime, and mass murder. As a nationally and internationally recognized expert on school and mass shootings, he has spoken to audiences across the country and around the world about his research, including to the United States Congress and the Washington State Legislature. He received his Ph.D. in Sociology from Northeastern University in Boston, where he was a Research Associate at the Brudnick Center on Violence and Conflict. He often teaches courses on Criminological Theory, Sociology of Deviance and Social Control, Criminal Homicide, Juvenile Justice, and Diversity and Social Justice in Criminology.
His work has been published in Aggression and Violent Behavior, American Behavioral Scientist, Behavioral Sciences & the Law, Critical Criminology, Homicide Studies, The Journal of Contemporary Criminal Justice, The Journal of Hate Studies, The Journal of Psychology, Men and Masculinities, Social Justice, The Social Science Journal, Sociological Focus, Violence and Gender, Youth Violence and Juvenile Justice, and in numerous edited volumes. He served as co-editor (along with Dr. Adam Lankford) of the February 2018 special issue of American Behavioral Scientist on "Media Coverage of Mass Killers" His most recent book, How to Stop School Rampage Killing: Lessons from Averted Mass Shootings and Bombings, explores how threats of multiple-victim rampage shootings are assessed and prevented in American public schools.
As a public criminologist committed to improving public policy and media discourse through the dissemination of empirical research, Dr. Madfis has been interviewed by and/or has had his research featured on ABC News, The Australian Broadcasting Corporation, The BBC, The Boston Globe, The Canadian Broadcasting Corporation, The Chicago Tribune, The Los Angeles Times, MSNBC, NBC, The New York Times, Newsweek, NPR, Politico, Psychology Today, Salon, The Seattle Times, Slate, Time, Vice, The Washington Post, and many other local, national, and international outlets. In 2018, he won UW Tacoma's Distinguished Research Award. In 2019, the Washington State Legislature utilized his research on the prevention of mass school shootings to inform the passage of a legislative mandate implementing non-biased threat assessment procedures in public schools across Washington state.