Christine Stevens, RN, Ph.D.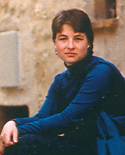 Degrees
University of Washington Seattle
Dr. Christine Stevens received her PhD (2004) from the University of Washington Seattle, MPH (1994) from California State University Northridge and BSN (1976) from Seattle University.
Dr. Stevens teaches undergraduate and graduate students in community health including classes in the Health and Society Minor. She has developed electives to incorporate her research interests which include adolescent health and promoting health through social marketing.
Dr. Stevens' research focus is working with adolescents addressing health disparities due to the issues of race, class, access, and gender. She has employed numerous research methods to explore the perceptions of adolescent mothers and the barriers to their health, issues of food insecurity, and the use of technology to assist adolescents to obtain health information.
Adolescent health
Socioeconomic influences on adolescent health
Public housing and health
Using technology in adolescent research
Food insecurity in adolescent populations
Healthcare for the homeless
Social marketing
Qualitative methods
Visual methods in research
Critical social theory
Community evaluation
2012 Distinguished Teaching Award, UW Tacoma
2010 Hooding Speaker for Master of Nursing: Faculty selected by students
2009 National League of Nursing, Scholarly Writing
2009 Nominee, Distinguished Teaching Award, UW Tacoma
2008 Nominee, Women of Influence, WA
2008 Nominee, Distinguished Teaching Award, UW Tacoma
2006 Hooding Speaker: Faculty selected by student
2006 Volunteer of the Year, Faith Homes Shelter for Homeless Teens, Tacoma, Washington
2003 Volunteer of the Year, Faith Homes Shelter for Homeless Teens, Tacoma, Washington
Food insecurity among college students
Principal investigator
Nursing Founders Funding
Healthcare for the Homeless and University Collaborations 
National Healthcare for the Homeless Coalition
Co-PI
Salishan Hope IV Evaluation
Study of a Multi-Ethnic housing development
PI of project
Nurse Retention Study - Two Year Longitudinal Study
Factors that influence new RN retention within the first two years following graduation
Funding: Middleton Family Grant
Stevens & Moceri, Co-PIs
Center for the Advancement of Health Disparities, Pilot study funding
Food insecurity of Female Head of Households (ages 15- 24)
Principal investigator, Images and Voices: Adolescent Mothers
Negotiating Socioeconomic Environments and Health, Dissertation, University of Washington